The artist Gloria Romberg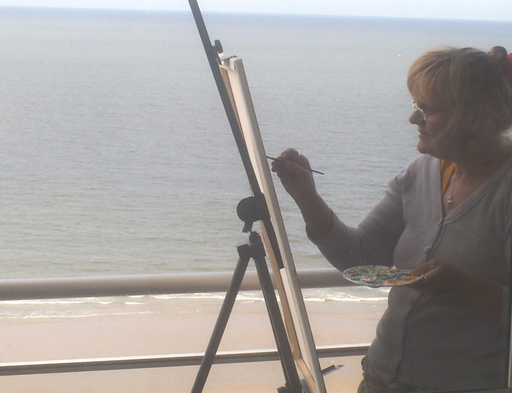 The way of the artist Gloria Romberg lead her via Berlin to Ostend. This place, working place for artists like James Ensor and Leon Spilliaert and an eternal source of inspiration, became and is the place of her choice.
The magical light of Ostend, the scent of the sea, the unique atmosphere of this unique city and the art of Gloria Romberg are a very strong symbiosis.
The architecture of the modern cities and how this could look like in near future is a main theme in her works.
Not only the architecture, even the universe, the environment and ecology are elementary themes for her paintings and art objects.
Painters like Hundertwasser, Immendorff and Magritte and designers as Colani are examples of artists with a free spirit. And precisely this is the aspect of the art and works of Gloria Romberg:. She has a real free spirit.
The beautiful strong paintings with lucent colours, the creativity coming from her explosive strength in her paintings are essential ingredients in her unique work, even as her painted interior art objects and installations, also outdoor, so being in direct contact with nature. She calls this "inclusive art". This will appeal to people, provoking reactions, making them thoughtful. Exactly that is the intention and purpose of Gloria Romberg and her impressive paintings, which, although not commercial and mainstream works,,but exclusive, are so appreciated by the public and collectors. Especially the, by herself developed, own GREVOLUTION style of working. As contemporary art has got a purpose, so has her work. "Let us change this world for good ", she explains."There are coming generations to live here. We are not alone."
Here, right at the sea shore, she lives with her female partner and muse, the cartoonist StellaR. An end of her art can not be seen. This city of Oostend is a constantly bubbling source of inspiration for her art and her free spirit. Or as she says: "From head to art "

More information on GloriaRomberg.com